Category: Web Business - Published: Jun 04, 2012 - Tags: design clients freelancing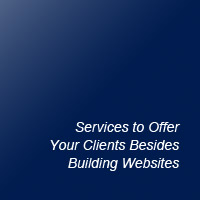 We are web designers. That is what we do best but we also happen to know a lot of other things that our clients need and we aren't actively providing or promoting. Here are some ideas for other services to provide that we already know as web designers yet aren't offering.
You can come up with better names for these but you'll get the general idea.
Social Media Setup Package
Most clients are totally clueless about social media. Plus there are so many different ones out there and all the usernames and passwords to remember. That's where you step in.
Start by setting up a new Gmail account for them. Connect all the accounts to it. Next, buy a LastPass account so they can easily store all their passwords and usernames. Now just go through and add all their social accounts. If they don't exist yet go ahead and create them.
You can let them choose from a list of accounts or go with the major ones like:
Twitter
Google Plus
Facebook
LinkedIn
Pinterest
Tumblr
and so on
That is pretty much it. Create all the accounts and package them all into one LassPass account with one email address. If you want you can even go to their office, install the LassPass plugin in their browser, and bookmark the social sites for them. Also set up the gmail account to forward to whatever email they currently use. Using Gmail is better because you can set it all up on your own without dealing with their email then just forward it on when finished.
Even my grandma could take it from there.
You can also offer an upgrade to the package that will automate a lot of it for them. Set it up so that your Twitter updates go to Facebook and so on.
A cheap little package that a lot of small companies might take advantage of, which would only take you an hour or two to complete.

Social Media Update Package


Manage their whole social presence for them. Set up everything in the Social Media Setup Package plus add a few extras. Use their blog or build one on Tumblr and get a content writer to create a set number of posts a month. Then just promote said posts across the various social networks while throwing in some other general company information and news along the way.
You can set specific amounts per month in the contract. Like say:
Ten Tweets a week
Four blog entries
Five Facebook Updates
Five Google Plus Updates
and so on
You can charge a decent chunk of change for this type of package and the best part is you can outsource almost all of it. Just having a few of these recurring packages could be a nice source of income for someone.
It will also help to create a nice printable monthly report showing how their social accounts are doing and their effect on search results and traffic.
Social Media Monitoring Upgrade
For an additional fee you'll monitor all the accounts and make sure customer questions are answered and negative feedback gets dealt with correctly.
Online Presence Audit

Create a report of the companies social presence and website and give a detailed explanation of what they are doing right and wrong. You can also create a list of improvements you'd make and how much they'd cost. If done right you can set yourself up for a bunch of new work.

Local Search Package
Set their company up in Google Places, and the other local search sites. Buy inclusion into some of the major business directories like Yahoo and whatever local directories you can find. Write one positive review for their company in each of the major review sites like Yelp. Make sure their address, phone number and website information is correct on all the sites.
That is pretty much it.

Basic SEO Packages
If you have an seo package you currently buy for your own sites or know someone you trust just outsource the work to them and take a small cut. If you want to do it yourself do the following:
Buy inclusion in a few directories
Get 10 articles written and submit them to Article directories
Build 5 Web 2.0s pointed at their site and build some links to them
Have 5 blog posts written, published, and promote them via social
Should be safe from any Google penalties, and somewhat effective. You can change this up for different price ranges and packages.
Hosting
It takes no time at all to set up a reseller account with most web hosts. Charge $10 a month and offer hosting support, which they shouldn't ever need.
Site Refresh Package
A quick skin change to the site. A few new images, redesign the background and maybe the header. A newer look to the exact same site.
Online Advertising Package
Monitor their Facebook, Bing, Google ad accounts for them. A flat monthly fee might be easiest.
Make sure to offer a monthly report to show how it is working.
Social Site Designs
Give a low flat rate for simple designs to Facebook Pages, Twitter backgrounds, G+ Profiles etc.
And So On
I'm sure you can think of a dozen more. The point is to think of what you can do that other people need. I bet the list is pretty long. Go through and email or call your old clients and tell them about your new offers and set up a slick page on your site showing the various packages you offer. I bet you'll get some bites.