Category: Advertising Promotion - Published: Dec 20, 2011 - Tags: blogging news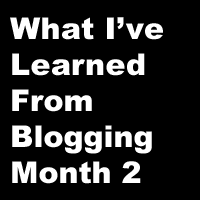 Wow it seems like only yesterday, I started this project. I continue to experiment and have learned a lot, even in just two short months of blogging here. Traffic has been steadily climbing and although I may be short of my initial goals, I am still making significant progress.
Still Living and Dying By Social Media and Link Shares
Building a following is slow. And getting traffic from Google is also quite a process. With those two not really bringing a lot of traffic, it is up to me to promote my posts, if I want anyone to see them. I've found a few decent places to submit to, but not every post I write necessarily fits with what they are looking for. I've also noticed the traffic I'm receiving back is a lot lower than last month, from most of these sites. Which I am guessing is due to the December holidays schedule. Less people reading blogs, busy doing family stuff and shopping.
I was setting my posts to be published early in the morning. Then when I woke, up I'd submit the posts to the various news sites, but I've found the time and day really doesn't matter for traffic. Generally now I only wait to post something if there is already a published post that day.
Traffic Time
Another thing I've found is that all of my traffic comes between 6am and 2pm Pacific time. Which means the majority of my traffic comes during east coast business hours (9-5).
Social Media Buttons Are Not Important
Putting social sharing buttons on your homepage for every single post is a really bad idea, especially for a new blog. To start, it drastically slows down your site, even if you try to optimize the javascript. Secondly, it shows that your blog doesn't get a lot of traffic when readers can see only a handful of people are sharing. But most important, people who are willing to spread the word about your post are going to do it whether you have a button or they have to do it themselves. We all have Twitter apps and such. Having social media buttons is only a convenience not a necessity.
Avoid:
I don't think you need to hide the fact that your blog is new, but you don't need to broadcast it either. Don't show how many RSS subscribers, or Facebook followers your site has unless it is a really big number. The same goes for Retweets, Stumbles and so on. Right now I have those buttons at the bottom of each post, but that is it.
Another bad sign is having empty BuySellAds blocks all over your site. If you cannot get advertisers, remove the blank spots, it just makes the site look abandoned.
It seems stupid that people judge the quality of content by how many other people like it, but it is true. The more followers you have the quicker new ones will jump on board.
Social Sharing Sites Require Friends
If you don't have a lot of active blogger friends, don't bother with sites like DesignPoke, The Web Blend, DesignFloat, Bizsugar. No one reads the recently submitted articles so there is no chance your article will be promoted. You have to know people who use the sites and get them to promote your posts. It is the only way they will be seen.
SEO Doesn't Matter For New Blogs
Again SEO isn't going to make or break a new blog. Just focus on the content. Google will not produce a lot of search results for your site until it has been firmly established. As in, lots of regular posts and be older than a couple of months.

From the image you can see how my search impressions are slowly rising. The little dips are the weekends generally. The first month I went days without really getting any Google traffic. Now I am getting between 10-30 visits a day, which is still nothing, although it is slowing increasing.
Only Publish Your Best Work
When I first started out, I thought it was really important to get Google to crawl my site every day, so I started pushing out bad posts about 2 weeks before the site was officially live. It really was a huge waste of time. The site does get indexed frequently but none of those initial posts received any traffic.
When you are officially ready to launch do it right. Only publish your best work.
Quality, Quality, Quality
I haven't even been close to doing it yet but my early New Years resolution is to spend as much time writing as I do surfing the internet.
There are no shortcuts to a successful blog. It takes hard work and great posts. Every time you write something think about the value it brings to your readers. Write a funny story that ends up proving a point. Create a tutorial or review that really digs deep and targets something other bloggers are not writing about.
Become A Better Writer
Something that will happen over time but I'm working on every day. Learning how to write faster and get better at writing short sentences and paragraphs. I'm trying to cut out as much fluff and unnecessary explanations as possible. My spelling and grammar is also pretty terrible. I've been rereading all of my posts at least three times now, to try and catch the majority of it.
I hope sharing my experiences has been helpful in some way. If you have any questions feel free to leave a comment below.