Category: Advertising Promotion - Published: Dec 01, 2011 - Tags: blogging ecommerce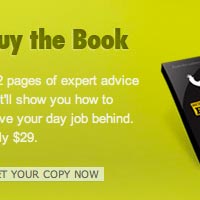 Giving away content for free is a good way to bring in readers but making money from advertisements alone, might not be enough to make a successful business out of your website. Many of the top bloggers are selling their own content products and services right alongside advertisements, with good results.
The hardest part was getting the traffic to your site. Now the new hard part, is getting your readers to buy your products.
The best thing to do is not go crazy making changes to your site right away. Take it slow. Worst case senario, you don't sell anything, but if you go nuts promoting your products you might lose that traffic you fought so hard to get. So take baby steps at first.
The Product Launch
Most successful websites and blogs have a strong sense of community build through years of communication. When you do decide to offer up product on your website let your readers know before hand. It is their site to after all. A week or so before you plan on making changes to the website write a post or short new blurb, which is essentially a press release about your product, the changes you plan to make to the site and why you are doing it. Your readers will be far more supportive of the changes you make if you just let them know in advance. Plus, it is another way to build hype for your new product launch.
You will also want to spread the word beforehand via social media, especially Twitter.
Consistent Branding
Your readers are familiar with your branding, don't change it for your products. Keep with the same color scheme and overall design. Unless of course you are hocking other peoples products.
Never Take Something Away That Used to Be Free
Don't mess with a good thing. Make sure that none of your free content becomes hard to find or gets removed from the site. It is your free content that got you the readership, so make sure that you don't upset anyone. The easiest way to add premium content is by replacing some ad spots with your own premium content. That way the site layout doesn't have to change in any way and you can gauge the success of that content.
With anything online, make changes incrementally. And if it really doesn't work make sure you can still fall back to the older version.
Placement
Replacing ad slots is an easy way to begin promoting your premium content. As time goes on, and depending on the success of your product sales, you may wish to expand your product areas. It is ok to tinker with placement, just don't do anything too dramatic.
Why advertise other people's products when you can advertise your own
Also, if you sell your own ads you will be able to replace empty ad slots with ads for your own products, so that there is never an empty ad slot.
Here are some examples of websites that have been extremely successful making money from their premium content. The primary ad locations are the header and the sidebar.
Website Header
The site header is prime real estate. A link to your best product would do pretty well placed here. You may want to hire a designer to design small ads for you, if you don't possess those skills yourself. It can be challenging using these small spaces effectively.
Smashing Magazine uses their header to promote their new book. Printed and digital books are fairly easy to promote in this area. A simple book cover and the title might be all you need.
Smashing Magazine also has several ways of generating money from their primary navigation: Shop, Jobs, and Directory. I would only recommend doing a paid directory or Job Board unless you have lots and lots of traffic and can afford to pay people to monitor them.

Freelance Switch puts the area just below the header to great use as a call-to-action. The left side promotes featured content on the site. The middle is an ad for one of their books, and the right side is a link to their paid job board. The use of bright colors and imagery draws attention yet doesn't distract from the posts below.
TimothySykes.com. Not as well designed as the other examples in this post, but I suppose for a stock advice site, it doesn't have to be. This website has taken monetization to the limits. The site has problems with information overload, but apparently products are selling. But this header example is not to badly done.

The TutsPlus Network has been very successful at monetizing their multiple tutorial sites. Aside from ads they have a job board, premium tutorials that requires a monthly fee to access as well as a marketplace for templates and themes. This is truly the model to follow.

Website Sidebar
Another easy place to promote your premium content is the sidebar. Sidebars are less effective but allow for exposure on every page.
Mix in ads for your premium content with the other ads and around the navigation in the sidebar.
Smashing Magazine places a long sidebar ad next to sidebar navigation.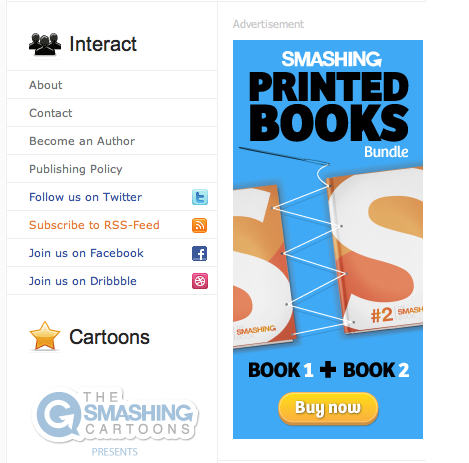 Pro Blogger has ads for three of his books just below the paid ads.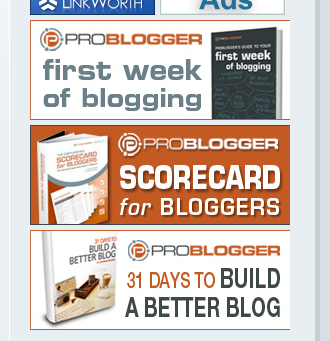 TutsPlus shows the latest entries from the job board as well as popular products from Theme Forest, their marketplace.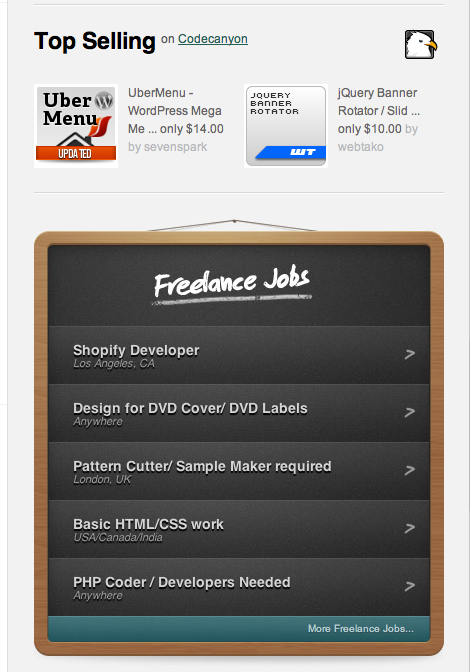 Newsletter
A newsletter is a great way to promote both your free and premium content. Your newsletter signup should be prominently displayed. Typically in the sidebar or header area.

Here is Smashing Magazine's Newsletter signup ad.
Give A Little Taste
The customer must know exactly what they are paying for or they won't buy. I see this problem with applications and premium add-ons a lot. Give lots of screenshots and excellent descriptions.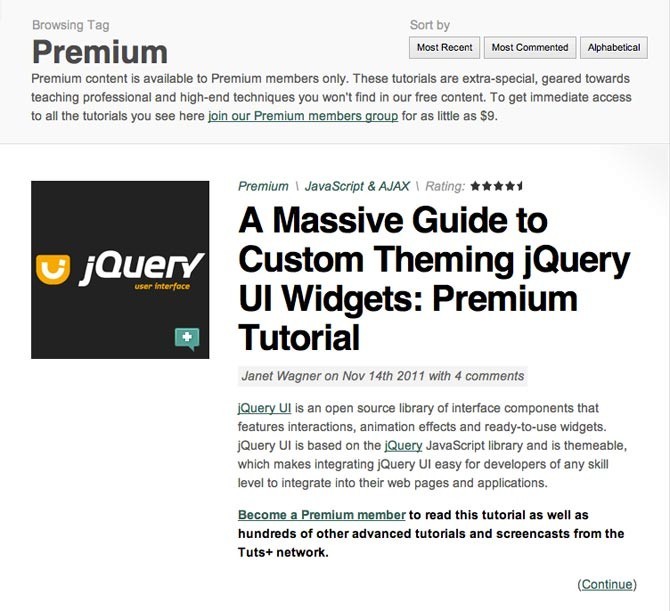 ProBlogger dedicates a whole page to each product which I recommend doing. Making a short video talking about the product can also be effective. Testimonials can be used, but I think most people realize that testimonials can be taken from anyone. And a testimonial from someone you don't know doesn't hold a lot of weight.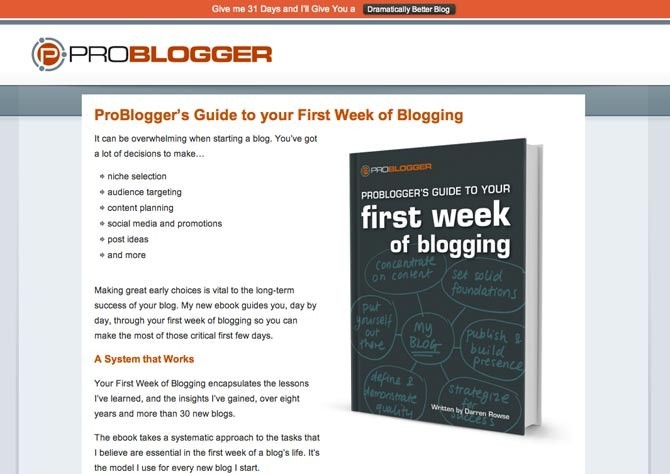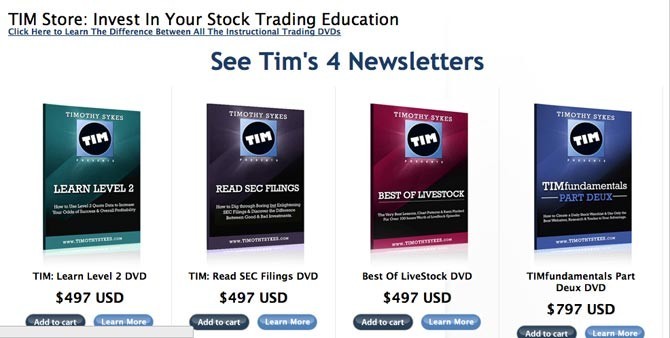 Membership Access Content
Converting your website into a member only site is a real gamble. A number of websites have tried using a paywall, and most have not been successful with it. The trick is not to take anything away from the readers. Don't remove any content and continue to offer the same free content that you did before. Readers who are used to getting something for free are not going to want to pay for that same content. Most likely, they will simply move on to another website that is still free.
The TutsPlus Network does a pretty good job of mixing in free and member only content. They continue to offer free tutorials and other information but one or so a week is a premium tutorial. Premium and free tutorials are in the same feed so essentially each, premium tutorial is an advertisement for the membership.
I would also not advice offering a paid membership service unless the content is truly excellent. News travels fast around the internet, if your membership is not worth paying for, the news will get out.
Payment has to be Incredibly Easy
Just like with any ecommerce site, payment has to be incredibly easy. Don't force the reader to leave the site to buy your products elsewhere and if you do set up a shop, continue to use your same branding.
For people just starting to monetize their sites PayPal is the cheapest way to go. Most people these days have a PayPal account and trust using it.
The downside of using PayPal are numerous. You cannot easily communicate with your customers is the biggest problem. A person who buys one item from you is far more likely to purchase a second, than someone who hasn't purchased anything. The number of clicks it takes to purchase through PayPal is also more than it can take if you build your own store. And if you already have most of your readers as member of your website, it can be easy to allow them to pay quickly, and for you to offer them other similar products. Which is a lot harder to do with PayPal.
Types of Premium Content
There are plenty of ways to monetize your site with premium content. Depending on your website, you might want to try a few of them.
Products
ebooks
videos
screencasts
add-ons
blog themes
Services
job boards
member sites
consulting
evaluations
freelance work
Just like it took hard work and lots of experimentation with different techniques to bring traffic to your site, selling your products will take time as well. Just remember not to over do it.