Category: Advertising Promotion - Published: Apr 18, 2012 - Tags: seo blogging social media web content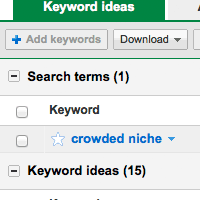 Crowded niches can be extremely difficult to get started in but also happen to be the most interesting and most lucrative. Whether you have a passion and want to write about it, have a business in a crowded niche you need to promote, or simply want to make money, it takes lots of time and persistence but it can be done.
Here are just some of the techniques which I found work, some strategies that other people seem to be doing well with, and general ideas to get a foothold in some of the larger niches. This info should work for most sites whether you have a blog, a little niche site, an offline business building an online presence or an authority site.
Getting to Know Your Niche
If you are planning to build a blog or site in a crowded niche you should be pretty familiar with the topic beforehand or plan on doing a ton of research. If you plan on buy article, posting low quality content or other wise faking it, you probably should just give up now. Getting into a tough niche requires knowledge and passion. If you have those two things you are good to go.
If you do decide to take on a crowded niche than you should have some idea of who the big players in that niche are. You will discover most of the big ones right away and as you do your research, medium and smaller websites will come to your attention. You really need to keep track of all of the sites in your niche to see what they are doing and how you can do it better or in a different way.
As you write your posts you'll have questions and the answers you get from Google will probably be from some of these sites in your niche. Make a list of every site you find in your niche or on related topics that has good content. Go ahead and leave a comment on their posts when you do happen to find some useful content. Every link back helps, even the no-follows. You just might grab a little traffic or gain the attention of the blog owner. Both wins.
Categorize the Competition
The Big Guys - These are the sites you can not compete with right away. But that isn't a bad thing. Your goal is to use these sites to siphon traffic and learn from. You can do this by leaving comments, participating in their forums, and writing guest posts. You may even consider advertising on their sites. General just be an active user and grow your knowledge on the topic off of them.
The Medium Sized Sites - These are the sites you want to spend the most time participating on and hopefully building relationships with the owners. I categorize these sites as those with really good content but for whatever reason are not up at the level of the big guys. These sites also tend to be created by one person, not a host of writers and editors or a large company. Which makes meeting and befriending the owner a lot easier.
It is much easier to build relationships with the people who are struggling just like you are. Make friends and help each other out. Start a contest together, guest post for each other, promote each others products. You might not be able to do some of the bigger promotions alone but together with a partner or a group of sites you can do some of the same things the big guys are doing.
The Little Guys - This is you at first. Take note of the difference between these sites and the big guys. See the mistakes they make and avoid them.
You also want to study their search traffic. These little sites have poor search rankings, just like your site. Which means you can rank for the exact same terms with relative ease. Posting just whatever you feel like writing isn't going to get you anywhere. Find the low hanging fruit (easy terms to rank for) that these sites are ranked for and get that traffic coming to your blog.
There are a number of tools to view the keywords of other blogs such as:
SEMRush
Spyfu
Ispionage
Keyword Spy
Alexa Toolbar
Below is what SEMRush had on this site. You only get a certain number of results for free but you get an idea of what people are ranking for. The information isn't 100% accurate but is reliable enough.
Aside from looking at search results, look at the little blog's "Most Popular" lists to see what content is working for them. Again I'm not advocating stealing but you need to know what is working in the niche. Find what people want to read. What they are looking at the most. You might think you know but why guess and waste time if wrong when other people are paving the way for you.

How To Make Your Content Better
Some people are naturally gifted writers who can keep you hanging off every word, but for people like me and maybe for you, it becomes apparent that the top sites in your niche have better content written by better writers. If you cannot write content as good or better than the big guys than you have a real uphill battle ahead. But that doesn't mean you can't still find the easiest way to the top possible.
Differentiate
You might not be able to write as good as the big guys but maybe you can make great screen casts. Maybe not even great but better than the other guys is all you need to do. You don't have to always compete directly, differentiate the information you provide.
The big mistake I've made and a lot of other people have as well, is trying to cover the exact same content other people are doing. Google and their users have no reason to read your content when sites people trust more have that same content. So you need to find a better way to deliver it.
Look at the post length of the blogs in your niche. If everyone posts once a day 500 words a post. You try posting once a week 3000 words a post. If they use tons of stock photos, just stick to the business, plain copy. Yes they've had success doing it the way they do but not everyone wants it that exact way.

Does Your Niche Have:
Topic Curators Be the person who find the best info in your busy niche and provide it in an easy format. Do a weekly or monthly roundup of the best content in the niche. Use social media to promote the best niche content. People will follow you because it is easier than finding all this info on their own.
Webinars, Podcasts, Live Group Chats People love this stuff. Plus it makes you an instant authority. If you don't have the following to start one up yourself, pitch your topic to someone putting one on. They may be willing to let you in and speak to their audience.
Video If your niche is full or bloggers, try doing videos. When Google search may be impossible to rank, Youtube might have some easy opportunities.
Forums Forums have been around forever and they aren't going anywhere. If your niche doesn't have one, they are easy to create.
Interactive This could be interactive maps, live chat, or on-site applications.
Design and Usability
Sometimes simply going with a better design than the competition can get you ahead. The same can be said for usability on ecommerce sites. If you can get your checkout process down in clicks you might get an edge on the other guys.
Have the Longest Tail
Don't expect to rank for the best keywords overnight, but capitalize on the long tail keywords you can get right now. The easiest way to find long tail keywords is to look at Yahoo Answers, Quora, and forums. See what questions people have and build pages of your site to answer them. For most long tail keywords you simple need to be the most relevant. If your URL is an exact match, the content is relevant and your Title and h1 are exact matches, you should be able to rank on that alone.
Even if that page only produces 100 hits a month, multiply that by 100 pages and you are starting to get somewhere. It is all about getting the easiest traffic possible.
Paid Traffic
Paid traffic is the great equalizer. No matter how big a site is you can compete with them if you are willing to pay for it. There are many paid traffic methods including:
PPC Ads
On-site Ads
Social Media
Creating and Promoting "Viral" Content
Contests and Promotions
Large niches can be challenging to break into but offer the biggest rewards. So don't be afraid to take one on.