Category: Advertising Promotion - Published: Apr 01, 2012 - Tags: seo social media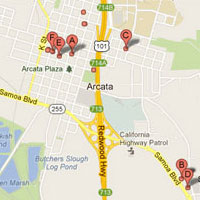 For a brand new website, optimizing for local search can be the first and easiest way to get relevant traffic. There are plenty of ways of driving traffic to websites but local search is best for small businesses looking to use their websites to gain new clients or sales. The traffic won't be staggering but will be highly relevant which ultimately is what is important.
Which Websites Benefit From Local Search?
Not every site needs to be optimized for local search. The ones that do are generally businesses that provide a service or sell a specific product. Some examples are tire shops, tanning beds, lawyers, restaurants, locksmiths, coffee shops, lawn mower repair shops, barbers and so on. It is easy to find out if local search is relevant, just Google the name of the city the business in located in and the service or product they provide.
As you can see in the photo below, the first 3 results are normal google search results. Below those are the Google Places results with a Google Map showing their locations to the right.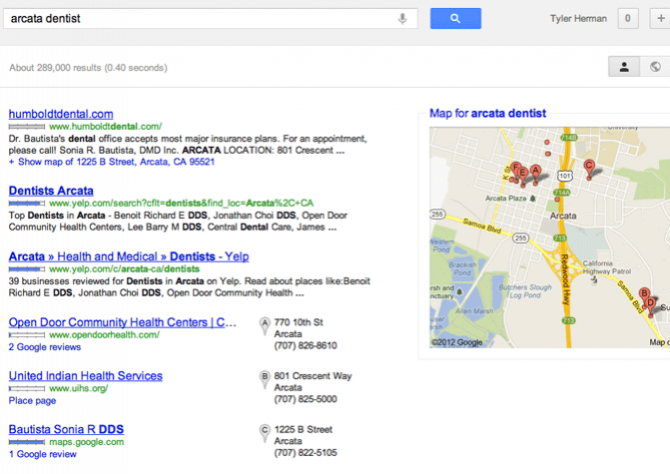 I'll get into how to get and improve those rankings further down the page.
Search Terms To Optimize For
The first terms to optimize for are the most obvious ones. If you are a dentist I'm assuming your website is fairly optimized for that word. For some businesses people search for a specific service instead of profession. For example people may search for "taxes" or "tax service".
Of course there are other, more exact ways to find out what and how many people are searching for a specific term. Google provides three free ways of finding out what people are searching for, how well your website is optimized for those terms, how many people are searching for those terms, and what other terms people are searching for that you may or may not be ranked for.
Google Analytics
Your Google Analytics account will show you some of the search terms people are using to find your website. If the site is very new this may not be helpful but for an established website it should give you a good indication of what terms you are doing well with.
As you can see, looking at this sites traffic, Google is now hiding traffic from people logged into their Google account (not provided 1,293) but you can still see some of the results. And even though you cannot see those not provided results they are going to be pretty similar to the terms you can see.

Google Webmaster Tools
Google Webmaster Tools is another good one. It shows what search terms your website is getting found for and shows where you rank for that term. You may not be getting traffic from these terms because you don't rank high enough, but if Google is ranking for a term that means people are searching for that term, and if you work at it and move up the ranks you could gain some traffic there.
Google Webmaster Tools has two useful things to look at, the first being below in the photo. This shows what Google shows your website is optimized for. As you can see the results aren't always what you want or expect. This blog is ranked for the words "blog, read, posts, tags, twitter and rss". None of those are terms I really care to be ranked for but if you look at this website you can quickly see why. The URL of the page you are on, and all blog posts have "/blog/post/" in them. The homepage has "read more" links under each post. There is a "twitter" and "rss" image link in the top of every page.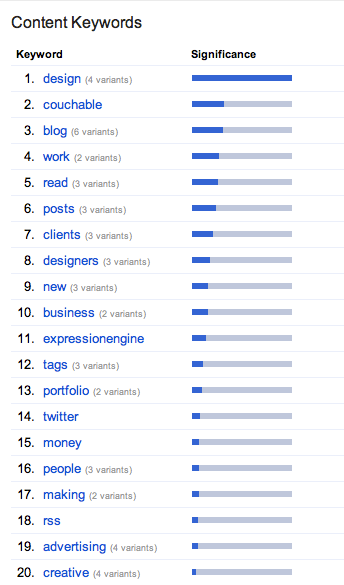 I could definitely do a better job doing on-page optimization for this website but inevitably you cannot get everything perfect. There will be some words you simply have to use to make the pages make sense. Never sacrifice the user experience on your website for search terms.
The second part of Webmaster Tools you should use is the Search Queries. This shows you exactly what terms your website is being found for. Just like with the Content Keywords, this is far from perfect, and most likely you will be found for some things that are totally irrelevant. This isn't important, the important thing is to see which search terms are being used that are relevant and how many impressions you are getting. Impressions shows how many people are searching. Clicks are how many clicks you are getting from those terms. Just because the results are less than 10 doesn't mean aren't getting traffic, not everyone searches for the exactly term.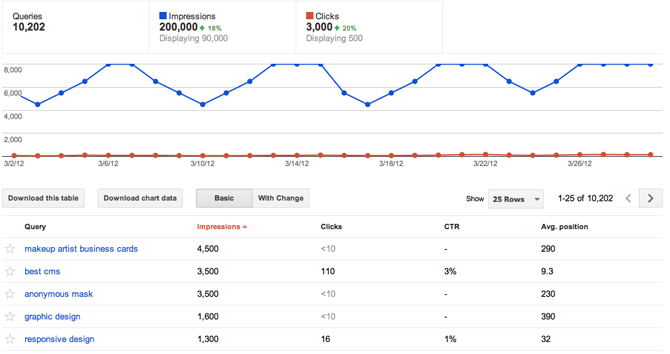 Google Adwords
The last one is Google Adwords. Adwords has a Keyword Tool that allows you to type in a term and see how many people are searching for that term, as well as give you list of relevant search terms. This is a great way to find out which will be important terms, how hard they are to rank for (how much competition there is) and how many results you should be able to get from a #1 search result.
From the image you can see that Dentist provides millions of results, yet your changes of actually being found for that one term is extremely difficult. You are better off trying for more specific terms.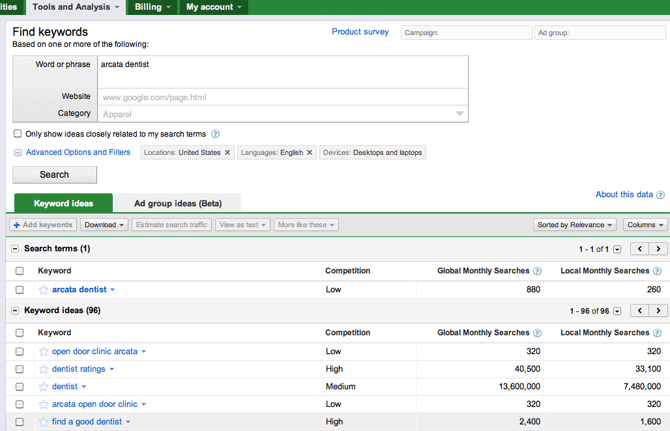 Alexa
One more tool you can use for your own site, but more importantly for competitor's websites is the Alexa Toolbar. It is free, you just need to create an account. Here is what it looks like in Chrome.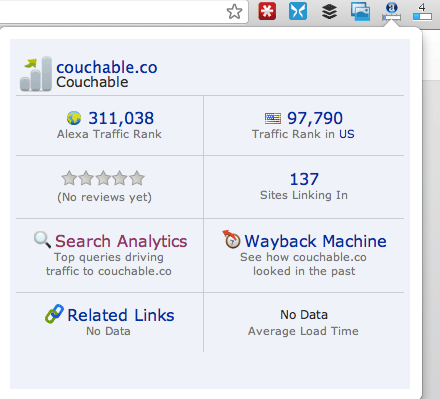 What you are looking for is the Search Analysis. Which you can see below.
If you were competing with this blog, you can check these results and see what I am getting traffic from. So if you wanted to compete with me you would create content optimized for these terms.
Just like any tool these are never exact or perfect, but by using all of these tools you will have a really good idea of what terms are best, how many people are searching for these terms, and which to try and rank for.
Sites to Submit To
Now that you have your terms and hopefully have spent some time optimizing, you need to make sure that the business in listed with all of the necessary sites. The biggest one being Google Places. Places is free and the only real requirement is that you have a physical address for your business. If your optimizing for a dentist in Transylvania and the business is located in Transylvania with a Transylvania address than when people search for "Transylvania dentist" will see that site in their places results.
Other sites you might consider submitting to are Yahoo Local, Bing BBP, Yelp, Axciom, InfoUsa and Localeze. Google is the big dog but using these other sites will cover your bases and provide some additional links to your website.
Improving Local Search Results
Getting onto the local search list of results is the first step, but improving those ranks is a whole other matter. Here are some of the basics:
Have a website, duh
Use the same phone number and address, formated exactly the same on everything (sites you submit to and your website)
Have your physical address listed on your website
Submit your website to any local business directories
Encourage customers to leave reviews on Yelp and Places
Add relevant information to each site you submit to (hours of operation, phone numbers, photos, video, etc.)
One thing that a lot of people don't do is respond to negative reviews. Bad reviews suck but if you respond to them with an apology for the bad product or experience and show how you've made strides to change it, it really goes a long way. Don't hide from your bad reviews or try to bury them under your own good reviews. Fixing the problems is the only way to ensure you don't receive any more.
Local search traffic might not give you huge numbers but you know it will be relevant. If you need to improve your sites ranks and traffic event further you will want to do some of the follow:
Advertise online
Build more links
Further optimize your pages
Create new pages based on terms you are not ranking well for
Participate in social media
Update your website on a regular basis (blogs are good for this)