Category: Web Design - Published: Mar 07, 2012 - Tags: design portfolio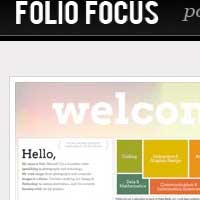 For the last two almost three months I haven't had a design portfolio online. I had every intention of creating a new one to replace the one I took down, but other things, like this blog and another personal project, got in the way. I've been thinking a lot about it and looking at the kinds of contacts I am and am not getting from my empty website, I've decided I just might stay portfolio-less for a while longer.
One of my criteria for going without a design portfolio is the amount and kinds of clients that were contacting me. Basically, I don't really want the clients who come to me via my website. Which seems odd not wanting work, but really the best clients have all come from word-of-mouth or have liked a project I did and contacted me from that. As in, they've already made up their mind that they want to work with me before ever meeting. Which makes for a much more enjoyable experience. You don't have to make the big sale, take a bunch of time playing email tag, talking on the phone or meeting in person. There is already a little bit of trust built up and that makes all the difference is a smooth and timely web project.
If I was relying on my portfolio to bring in work to pay the bills, I might have gotten a new one up in a hurry, but I have a day job and a few small passive income streams, so I can be selective. Which means eliminating a lot of the potential clients brought in by the website has been a nice change. Especially, because I have been so busy with this blog, and then went right into another large personal project. I still get a few inquiries from the limited website that I have up but I don't have to deal with half the emails I used to.
For people who only do freelance work part time or every once in a while, not having a portfolio can be good in other ways. For one thing, it frees up a lot of time, both removing the need to keep the portfolio current, and also cutting down on the number of emails and estimates you have to create. Lets be honest, writing estimates is about the least fun thing we get to do aside from taxes and billing. The clients who contact you via your website are usually the ones who are the least likely to work with you. You are probably one of 10 web designers they emailed so the chance of your estimate getting picked is not always the highest to begin with. And free time is free time. Spend it working, spend it playing, either way it is better than writing emails or estimates and maybe working on your portfolio. I think I've been through 10 official versions of web portfolio since I started designing and probably another twenty, half completed mockups in that time. If you can take a break from that you can get some other work done, or just take a break.
Clients have different expectations when you don't present them with work samples. You would think it beneficial for potential clients to know the quality of your work but really it just makes for extra hassle. Show a client an image or a website and they can only think in terms of what you showed them. It is easier to worth with a clean slate where the client has no expectations or assumptions. This is especially true when dealing with clients who don't have a lot of money. They see projects that took you months and had a large budget and want the same thing with their tiny budget. Not a good recipe for a successful relationship, that one.
Ultimately, I am going to get another version of my website up, probably by the end of this month, but is isn't going to be a portfolio. I've been writing blog posts about non-design related stuff and have no where to put them. So there is one reason to get the site done. But mainly I am going to make the site about me. There will be information about what I am interested in: web design, startups and web business, working out etc. but I'm not going to try and sell myself or any of my work.
I'm not saying there is a good reason to take your portfolio down if you need it for work, but if you don't and it is becoming more of a burden than an asset, you might consider getting rid of it for a while and see if it makes life any easier.