- Published: Nov 02, 2011 - Tags: news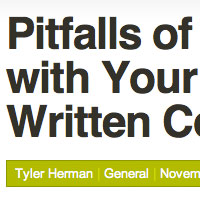 This week I had a guest post over at Freelance Switch about dealing with client written content as a web designer. Go give it a read, let me know what you think.
The article can be found here. I will be having some other guest posts coming up here in the next couple of weeks. So far guest blogging has been a good experience, and I will probably be trying to publish at least 2 guest posts a month for the foreseeable future.
And a reminder, if you want to create a guest post for this site, or discuss writing on a more permanent basis, let me know.