Category: Advertising Promotion - Published: Apr 23, 2012 - Tags: seo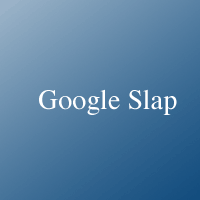 Well I suppose if you play around with grey-hat techniques you end up getting burnt eventually. But even white hat techniques can get you in trouble these days. One of my better niche sites got the Google slap last week and probably won't come out of it for a couple months or more. Here's what I've learned from the experience.
Be Wary of the Techniques You Use and Who You Get Them From
The most popular seo trends are always a little dated and right on the verge of getting sniped by Big G. One of the biggest problems with the web in general is that outdated information doesn't magically disappear from the SERPs. It lingers around and influences people.
In the case of SEO, harmful advice sticks around longer than it should. You can still find articles telling people to use Blog Networks (the same networks that have been banned by Google). Or find articles and services for social media bookmarking link bursts. Another good way to get a slap from Google.
How My Site Got Hit
In the case of my niche site I think I triggered a filter, either over-optimization and/or low quality links with the same anchor text. I did a Fiverr gig for 200 social media bookmarks twice for this site and I think that is what did it.
Pretty stupid to use something that costs $5 but it seemed like a lot of people were doing it and getting decent results. Curious to see how many people got in trouble because of it.
Where Does SEO Stand Now?
There has been a lot of discussion on how effective SEO is going to be now and in the future. Every time Google rolls out a new update some people declare the end is near. With the last changes that have come out it doesn't seem like a lot is really all that different.
The blog networks are gone but that was inevitable. Google has been banning Adsense accounts and sending letters banning tons of different websites for questionable links. Most of which was connected to the blog networks.
But the fact still remains, Google still has no way of determining what quality content is. They can find grammatical and spelling errors but not much else. They can lean on social media to determine quality but only so much and there are already ways to game the system by either buying "Likes" or building bots to promote content.
So links and link building will still be a huge chunk of SEO strategies. You just have to be smarter about how you do it.
What I Learned
Don't let other people work on your SEO. You just cannot trust that other people are going to know enough not to get your site(s) in trouble and you cannot go to Google complaining that "It wasn't me!". They can care less.
Make it Natural
Google is getting smarter but is still pretty dumb. You can't create 1000 links in a day but if you drip feed 20 or so links a day with varying anchor text you'll be in the clear.
Just make the techniques you use look natural. Don't just build PR 3-5 links, which are great to have but also get some no-follows and PR 0-1s as well. Look at sites that do it naturally and make your footprint look the same.
Build a Brand
This is probably the one area where Google is winning. There are still people doing really well with niche sites and other thin content but in the IM world it looks like people are starting to work toward building real brands. Getting hit by Google just isn't worth it.
But I suppose the moral of the story is, don't trust Google. Branch out and find other ways of bringing in traffic such as:
forums
article marketing
social media
paid traffic
guest posts
So if Google decides to remove you from the SERPs your income doesn't dry up.
On a positive note, two of my other sites have started earning, so it pretty much negates the loss of this one niche site. And there is a chance it comes back in a couple months.