Category: Web Design - Published: Aug 01, 2012 - Tags: internet marketing niche sites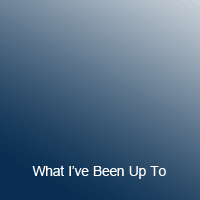 I haven't written a post in a while so I guess I'll fill you in on what it is I've been doing the last month and what I'll be doing over August. I definitely haven't been being lazy.
July was a pretty busy month and August will actually be a whole lot busier.
New Site Design
I've wanted to redesign my personal site tylerherman.com for a while now but just haven't had the time or haven't been happy with the comps I've come up with. But I've finally gotten a start going. I've made a really small and simple site. It needs lots of work, but with all my personal projects, half finished sites tend to find their way online.
Creating/Teaching a Course
So I'm creating a new free course geared toward small business owners looking to get going online. I'm talking with the people at a local small business organization and seeing if I can teach a free course or two. The first one I'm working on is How to Build a Small Business Site with WordPress. I'm going to go over how to buy a domain, set up hosting, installing WordPress and a theme, and other general things for non tech savvy people to get a site up and running.
It should be interesting because I've never taught a class before. I've written the first part of the tutorial and done the first screencast (another first for me). Hopefully I'll have this first course finished by the end of the month.
I also plan on expanding it to include all types of small business online marketing. Going over online advertising, email campaigns, ecommerce, SEO, social media and so on. We'll see how it goes.
Building Niche Sites
I had actually planned on stopping my niche site projects altogether and focusing on larger site. Well my larger sites aren't doing amazingly well yet (do your keyword research kids). But along the way I stumbled upon a good small niche and ended up finding more potential sites in the same area. I ordered all the articles and had the site up in 2 days. It was ranking after 2 days which had me pretty excited.
So I looked around and noticed there are other sites in the same niche I could easily rank. Now it looks like I'm going to be building 14 niche sites in the same larger niche. And the crazy thing is I'm going to build them all this month. Which means I can't write the content or do the SEO, there just isn't time.
So I've invested $1000 on articles. I don't plan on spending anything on SEO because these sites should rank on their own with a few links connecting them all together. From my early estimates I think this $1000 investment should turn into $250 a month profit, which I'm more than happy with.
I know I was supposed to write a follow up to my Niche Site post with my results but I've been busy. I guess it has been 6 months and right now my niche sites are making about $80 a month which is short of my $100 goal, but I haven't been building very many at all since that first batch, and one of them got dropped from the SERPs completely. So my eight or so sites are averaging about $10 a month.
I've learned a ton since making those and think this new batch should far exceed that. And for my $250 a month goal after a year, if I counted my larger sites I'd already be there, but if I only count niche sites, I plan on being there at the end of August. None of these new sites should be under $20 a month. So I'm excited to knock them out. Two down so far, 12 to go.
30 Day Challenge
I also participated in the 30 Day Challenge building a semi authority site in 30 days. My site is up and ranking (somewhat). We'll see how everyone else is doing.
Freelance Projects
I had one freelance project I did over July and have one more small one planned for August, so we'll see how it goes.
Going to be a busy month but should be exciting to see how these new projects take off.